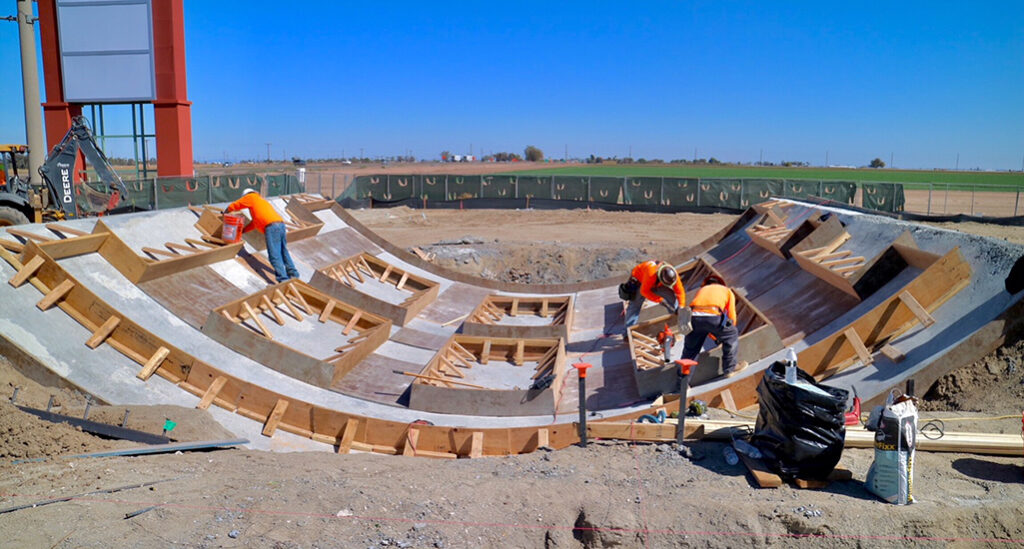 PMB is bending the curve in healthcare facility construction at one of our latest projects in El Centro, CA
PMB is advancing healthcare by bending the process in healthcare facilities. Construction of the concrete tilt-wall Clinicas de Salud del Pueblo El Centro Health Facility located in El Centro, California, incorporates a beautiful curve in the exterior building design. Pacific Building Group, general contractor for the project, tilted the entire building in one day and by doing so, even exceeded their own expectations!
The 45,000 square foot, two-story, healthcare facility delivers much needed care to the rural community of El Centro where quality and access are often challenged. Developing cost effective, aesthetically pleasing healthcare facilities requires considerable attention to detail. Forming a curved wall as part of a concrete tilt-up process requires exceptional craftsmanship.
Our team, which also includes Nadel Architect as project architect, executed the construction perfectly, delivered material consistency, a continuous smooth look, and an expeditious project schedule. We're excited to develop this project and express our commitment to healthcare, helping our client focus on what they do best.
Deprecated
: Function get_magic_quotes_gpc() is deprecated in
/var/www/wp-content/themes/ratio/framework/lib/edgt.functions.php
on line
278

Deprecated: Function get_magic_quotes_gpc() is deprecated in /var/www/wp-content/themes/ratio/framework/lib/edgt.functions.php on line 278