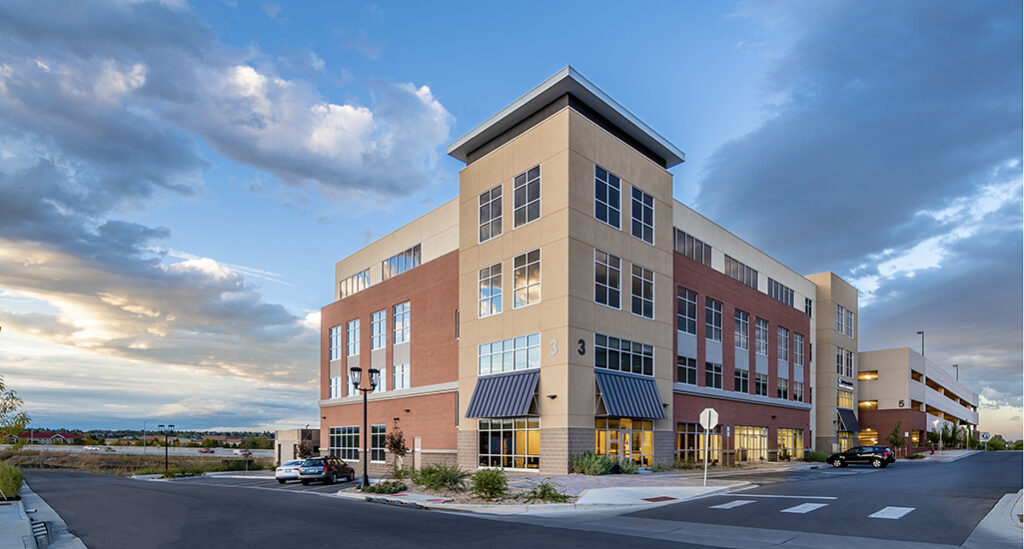 PMB Completes Superior Medical Center in Superior, CO and Wins National HREI Insights Award
PMB, one of the nation's leading real estate developers across the continuum of care, has announced the completion of Superior Medical Center (SMC), a four-story 60,000-SF destination health and wellness facility in Downtown Superior, CO. The project includes a 229-space parking structure connected to SMC by a pedestrian bridge.
SMC is the healthcare anchor of Downtown Superior, located at the southeast corner of US Highway 36 and McCaslin Blvd. Downtown Superior is a 157-acre master planned community providing an active downtown experience, exciting dining options, sporting events, outdoor recreation, and live entertainment. Downtown Superior is anchored by The Sports Stable, a 150,000 SF indoor sports facility with 2 ½ indoor hockey rinks and three indoor soccer fields.
The concept of SMC was initiated by Cornerstone Orthopedics in recognition of the need for a destination health and wellness facility to provide synergistic medical services to the nearby sports-affiliated facilities and local community. Cornerstone committed early to be an anchor tenant of the planned SMC and partnered with Sawtooth Development on the project's initial development.  After working on SMC's entitlement, Sawtooth Development sought a healthcare development partner to finalize SMC's equity, debt, construction guarantees, and leasing. In August 2016 John Gustafson of Newmark Grubb Knight Frank brokerage, representing Sawtooth Development, introduced PMB to the opportunity. By September 2016 PMB was in a 30-day exclusive agreement with Sawtooth and soon thereafter developed a partnership to co-develop the project. 
"We're excited about the project. We saw this as an opportunity to capitalize on a rapidly expanding market in an area that has already had substantial growth stated Jim Rohan, SVP of Development at PMB.
The project broke ground in April 2017 and was completed on time and under budget in February 2018. Denver-based DSP Builders, Inc., provided general contracting services and Intergroup Architects, based in Littleton, CO, served as project architect. The project was delivered under an open book design/build GMP methodology. The project team quickly built a strong rapport and working relationship that has led them to look at other development opportunities in the greater Denver area. 
PMB was attracted by the project's location in Boulder County, current synergies among existing tenants, strong demographics and the underlying need for health services in the specific market. The project is part of a mixed-use master plan, which represents one of PMB's strategies focused on access, convenience and the patient experience. SMC also benefits from Downtown Superior's ease of access from US Highway 36 and terrific freeway visibility.
Ben Rosenfeld, VP of Development at PMB, stated "The project represents years of work by the Town of Superior, Cornerstone Orthopedics and our co-development partners. I'm proud that we were able to help execute on their vision and deliver this destination health and wellness benefit to the entire community."
SMC is full of incredible successes. It represents PMB's first ground-up development project in the Denver Metro market and represents another PMB project as part of a mixed-use master plan, a growing trend in healthcare provision nationwide. PMB's project capital partner is Harrison Street Real Estate Capital, a new capital source for PMB, which set the framework for four additional joint-venture development projects. PMB worked with the master developer and the local metro parking district to create a parking solution that took advantage of the project's off-hours parking availability to address a local bond mandate for structured parking. SMC's shell and core was constructed by DSP Builders in 10 short months, overcoming the often unpredictable weather in the Boulder County/Denver area.
Clint Folsom, Mayor of Superior, stated regarding Superior Medical Center, "This is a major milestone in getting high quality jobs in much needed facilities."
The multi-tenant building is currently occupied by Boulder Community Health (BCH), Touchstone Imaging and Cornerstone Orthopedics & Sports Medicine. BCH offers urgent and family-care services. Touchstone Imaging brings x-ray, MRI and CT imaging services. Cornerstone Orthopedics & Sports Medicine, Superior Medical Center's first user, has created a sports rehab and orthopedic center of excellence. These services support the needs of not only the local community but also the adjacent Sports Training Facility to create a true destination health and wellness location. In addition, we're proud to announce that SCL Health has just signed a 15,000 SF lease to bring primary care and women's health services to Superior, CO in the Spring of 2019. This lease brings the building's occupancy to 70%, with only one full floor now available for lease. PMB Real Estate Services, one of the largest real estate service firms in the U.S. focused exclusively on healthcare assets, is providing property management. John Gustafson of Newmark Grubb Knight Frank is the leasing agent. For more information regarding leasing at SMC, please contact John at 303.260.4258 or by email at jgustafson@ngkf.com.
"Focusing on the right care, the right place, at the right time. This means a lot to us and we're super excited to be part of this project, stated Darryl Brown, Chief Business Officer of Boulder Community Health.
Most recently, PMB has announced that SMC has won Best New Medical Office Buildings and Other Outpatient Facilities (50,000 to 99,999 square feet) in the HREI Insights awards hosted by Healthcare Real Estate Insights magazine. The project was awarded in early December at the RealShare Healthcare 2018 conference held in Scottsdale, Arizona. The awards recognize excellence in healthcare real estate development and executive leadership. PMB was also recognized for another project, RadNet Medical Plaza in Riverside, CA, which was nominated as a finalist in the Best New Medical Office Buildings and Other Outpatient Facilities (25,000 – 49,999 square feet) category.
For more information regarding this project please visit, Superior Medical Center. Photos by Kevin Korczyk at K2 Creative LLC. 
Deprecated
: Function get_magic_quotes_gpc() is deprecated in
/var/www/wp-content/themes/ratio/framework/lib/edgt.functions.php
on line
278

Deprecated: Function get_magic_quotes_gpc() is deprecated in /var/www/wp-content/themes/ratio/framework/lib/edgt.functions.php on line 278