PMB Opens GenCare Lifestyle at Point Ruston: A Senior Living Community that Redefines Retirement Living
PMB is passionate about developing spaces with an unwavering focus on the human experience. PMB believes that it has the opportunity to make spaces that help to improve the lives of people and improve the health of communities.
Evolving the Senior Living Experience
GenCare Lifestyle at Point Ruston represents an evolution and advancement of the senior living experience – one where seniors access wellness programs and healthy lifestyle habits daily and are connected to a diverse, intergenerational and vibrant community.
Powerful Partnerships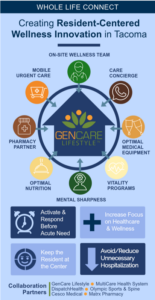 The power of PMB's partnership network was integral to bringing the GenCare Lifestyle at Point Ruston experience to life. PMB conceived the unique partnership ecosystem that offers an innovative, highly accessible and coordinated approach to health and wellness. The new model, called Whole Life Connect, conveniently provides medical care, health and wellness resources and a care concierge infrastructure directly to seniors in the comfort of their home. The integrated model includes PMB's development and operating partner, GenCare Lifestyle, MultiCare Health System, DispatchHealth, Olympic Sports & Spine and other community-based resources. "PMB just approached us to see if we'd interested in developing the concept aging in place," says Christy McCarren, Senior Vice President, Retail & Community Based Care, MultiCare, "people live better when they are in their homes. We wanted to be involved with Point Ruston because it is our community."
In addition to improving access and better connecting residents to the community and healthcare services, this integrated partnership is structured to simplify care coordination, improve outcomes and decrease healthcare utilization through what otherwise can be a complex healthcare journey. "We believe that strong, wellness-focused retirement communities can make a huge positive impact in the lives of older populations, especially when paired with the resources of a dynamic healthcare system," said Jake Rohe, Partner at PMB. "This ecosystem of partners makes perfect sense to create a healthier population."
•  The GenCare Whole Life Connect model, shifts what has traditionally been a patient-centered healthcare construct to a resident-centered wellness construct. The model is proactive, preventative and prescriptive in its approach to health and wellness. Much of the model focuses on GenCare's Whole Life Living ™ Vitality, Stay Sharp, Culinary and Live with Purpose programming. The nutrition at Point Ruston is in a league of its own. The chef-inspired meals are 95% organic and Certified Gluten-Free.
•   MultiCare Health System shares the common vision of Whole Life Connect – that healthcare can be better by making it simpler and less complicated for seniors to access hospital and other medical services. The MultiCare teams work closely with the GenCare staff, residents and their families, creating a concierge experience and coordinating the system's deep resources.
•   DispatchHealth has redefined on-demand in-home advanced medical care. DispatchHealth's emergency trained medical teams are equipped with all the tools necessary to treat common to complex injuries and illnesses – and they deliver care in the home to reduce unnecessary emergency room visits, as well as hospital stays and readmissions. A visit with DispatchHealth typically costs 80-90 percent less than the average emergency room visit. Acute care medical teams are available during the day and also on weekends, evenings and holidays, and our GenCare Lifestyle @ Point Ruston residents have priority access.
•   Olympic Sports & Spine serves residents when pain and lack of mobility starts to interfere with daily life.  Whether physical therapy or elective joint replacement/repair, residents will experience an optimal wellness journey that starts with personal fitness and nutrition support to strengthen the body and achieve pre-operative readiness. The wellness focus continues through at-home recovery at GenCare with self-guided exercises and the support of GenCare's fitness and wellness experts, helping to keep residents moving well after the interventions of surgery and related physical therapy.
Community is Key
The 144,000 square foot, six story senior community is ideally located on the southern edge of Puget Sound in Point Ruston, a master-planned, mixed use urban village. Unlike other senior communities, Point Ruston residents and visitors experience independence and are within walking distance from a wide array of amenities, including retail establishments, restaurants, a luxury hotel, residential developments, a movie theater, curated local and organic food, walking paths, meeting spaces and seasonal public events.
Now A Fully Remediated EPA Superfund Site
The current resort-style Point Ruston village is a far cry from the site's previous history. The site was home to a copper mill for decades and produced 25 percent of the world's copper and substantial toxic waste. The Environmental Protection Agency designated it as a Superfund site and has been implementing remediation efforts for more than 30 years. When PMB selected the site, the firm's development team saw great potential and worked with a master developer to finish the clean-up and create a functional, beautiful area. "It's amazing that this incredible waterfront master plan used to be one of the most contaminated sites in the country," says Mr. Rohe. "The site is now home to a diverse and thriving community which has a phenomenally positive impact on the community. We are incredibly proud of this project and its environmental and economic stewardship."
Strong, Integrated Teams Brought this to Life
To finance the development, PMB partnered with Harrison Street, a Chicago-based investment management firm. PMB initiated a two-part land and building condominium structure to remove EPA liability and joint-ventured the project with the operator, GenCare Lifestyle, and Harrison Street under a Real Estate Investment Trust (REIT) Investment Diversification and Empowerment Act (RIDEA) structure.
Fully operational beginning this month, GenCare Lifestyle at Point Ruston features 159 spacious independent, assisted living and memory care apartments and a wide variety of amenities. This includes a pool; gym; wellness center; public and private dining rooms; movie theater; bistro; full-service restaurant, media room; and salon.
Joining PMB on the project team was architect ERDMAN, headquartered in Madison, Wis.; City National Bank; design consultant Wattenbarger Architects of Bellevue, Wash.; interior designers ERDMAN and Edmonds, Wash.-based Husted Design; and general contractor MC Construction, which is headquartered in Tacoma.