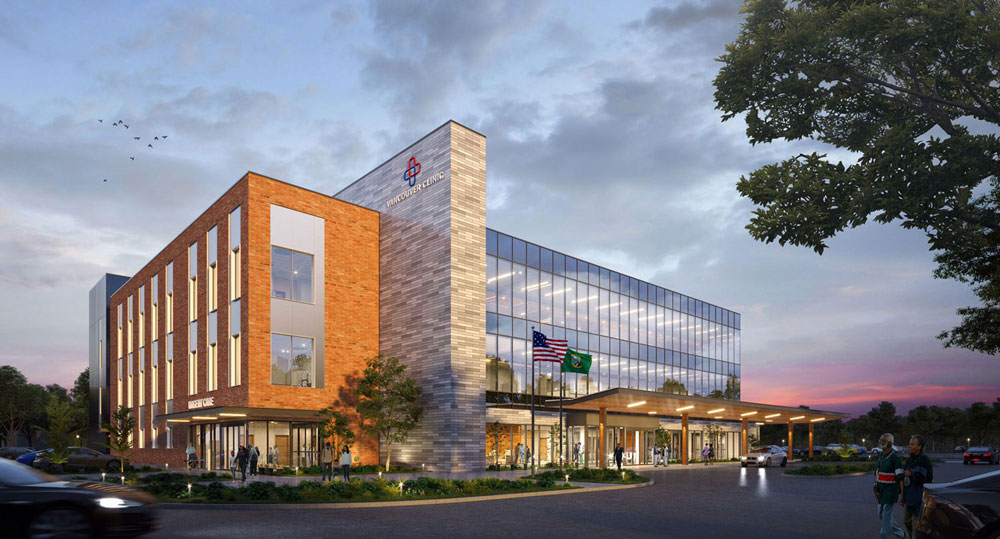 Investing in Community Health: PMB/Vancouver Clinic JV to Build New 80,225 Square Foot Clinic
As its 12th location, the facility will ensure that the largest private multispecialty clinic in Clark County, Wash., has a presence within 10 minutes of every resident in the county
VANCOUVER, Wash., and SAN DIEGO, March 17, 2021 – Joint venture (JV) partners Vancouver Clinic and PMB recently held a small, socially distanced celebration to break ground on a $75 million, 80,225-square-foot clinic in Vancouver.
Jake Rohe, Partner and Senior Vice President of San Diego-based PMB, one of the nation's leading medical office building developers, says his firm saw the project as an opportunity to help fill a financing void created by the COVID-19 pandemic. "PMB created a unique economic structure that enabled Vancouver Clinic to realize its financial objectives," Mr. Rohe explains. "We designed a delivery structure that, despite the pandemic, allowed the project to remain on schedule and seamlessly integrate with the existing design and construction team."
Mark Mantei, CEO of Vancouver Clinic, the largest private multispecialty clinic in Clark County, Wash., says the new clinic will allow his organization to better serve the greater Salmon Creek community and will be conveniently located near Legacy Salmon Creek Medical Center. Mr. Mantei notes that the new clinic, which will be its 12th in the state, will tie in with Vancouver Clinic's access strategy to provide a clinic presence within 10 minutes of every resident in the county. "Vancouver Clinic has planned a significant advance in value-based healthcare delivery with a new state of the art surgery center and advanced urgent care. The pandemic delayed those plans but with the help of PMB, we are now proceeding to bring this needed service to our patients and community. They stepped in and worked tirelessly to help us advance the project. We are looking forward to opening on time and on budget in the third quarter of 2022!"
The new, three-story facility, to be located at 2529 N.E. 139th St., is expected to be completed in November 2022. In addition to an ambulatory surgery center and urgent care services, the clinic also will offer orthopedics, pain management, physical therapy, podiatry, sports medicine, and other healthcare specialties.
The architect for the project is Portland, Ore.-based ZGF Architects, and the general contractor is Andersen Construction, which is also headquartered in Portland.