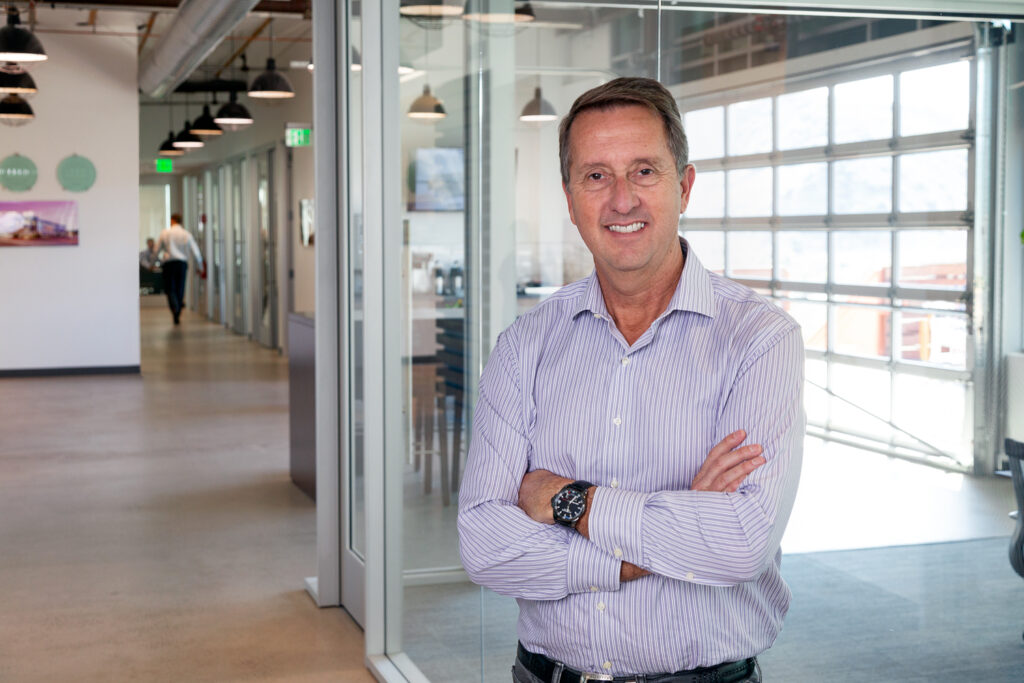 PMB President Mark Toothacre named HREI's 'Healthcare Real Estate Executive Of The Year'
SAN DIEGO, Jan. 21, 2021 – Healthcare Real Estate Insights (HREI) magazine's annual, national awards program has honored Mark D. Toothacre, President and Partner of PMB, as the "Healthcare Real Estate Executive of the Year."
The HREI Insights Awards are the only national awards dedicated to recognizing excellence in the areas of healthcare real estate (HRE) development and executive leadership. The awards are presented annually by HREI, the first and only national magazine entirely devoted to covering HRE development, financing and investment.
"It is a great honor for me to have been named the Healthcare Real Estate Insights Executive of the Year," Mr. Toothacre said during the recent awards presentation webcast. "I want to say a big thanks to my partners at PMB John Hussey, Jake Rohe and Ben Ryan who have helped create what I believe is a fantastic company.
"This honor for me is really a reflection of our company that goes all the way back to our founder and my mentor Bob Rosenthal who was a 50-year veteran of the industry. I spent the early part of my career starting 32 years ago side-by-side working with Bob to build our company, and I think the foundation of our company was set by him. He was just a great visionary, upstanding, honest and a hard-working guy. I think that we have tried to remain true to those values that Bob instilled in PMB."
Mr. Toothacre became President of PMB in 2007 and has effectively guided the company through two major recessions and overseen 40 projects and more than 4 million square feet of medical office building (MOB) development. He has helped PMB meet clients' needs by developing facilities across the continuum of care that cost-effectively provide an outstanding patient and provider experience.
Mr. Toothacre also is a board member of PMB Real Estate Services, a best-in-class property management platform which manages nearly 5 million square feet of medical facilities.
Under Mr. Toothacre's leadership, PMB was the top national developer in HRE research firm Revista's 2019 outpatient HRE development survey. PMB was also the first and remains the only company in the HREI awards program's eight-year history to win development project awards in three different categories in a single year. PMB has also achieved Leadership in Energy and Environmental Design®  (LEED) Certification status for eight recent projects and is currently planning its first LEED Platinum project.
Mr. Toothacre has actively mentored young executives at PMB, developing a culture that helps them take on responsibility early, gain experience in a wide range of disciplines, and participate in high-level meetings early in their careers. This has created an environment where there is very little turnover and everyone is well versed in the "PMB Way." Mr. Toothacre also has spoken at numerous conferences, events, and panels throughout his 32-plus-year career; and has published a number of articles in industry trade publications.
Mr. Toothacre received both Bachelor of Science and Master of Business Administration degrees in finance from San Diego State University and went to work for PMB as his second job out of college. He says that spending his life's work helping build PMB into what it is today "has been a labor of love and an incredibly gratifying journey." He says he is most proud of the relationships and reputation that PMB has built over the years and the fact that clients return to do business with PMB time and again.
The judges of the HREI Insights Awards had many positive things to say about Mr. Toothacre.
One judge said, "He's not only a visionary leader at PMB, he's also a highly respected industry leader. He not only helped make PMB one of the country's premier MOB developers, he also led its expansion into the seniors space. His selfless demeanor is evidenced by the mentorship he's provided to others. Beyond his professional accomplishments, he's honest, creative and hardworking."        
Full Release Here: https://www.prweb.com/releases/pmb_president_mark_toothacre_named_hreis_healthcare_real_estate_executive_of_the_year/prweb17672328.htm
About PMB
PMB's mission is to improve healthcare delivery, effect change and positively impact communities. As a healthcare real estate developer focused on the continuum of care, PMB can provide the infrastructure to cure disease, heal families and empower the greatest minds in the industry. Healthcare is in our DNA. Our company is 100 percent focused on healthcare real estate across the continuum of care – from community-centric health and wellness to health-focused seniors housing, outpatient, inpatient and post-acute care. PMB has developed over 100 facilities to date representing approximately 5.5 million square feet. The firm owns and manages 66 medical facilities comprising over 4.2 million square feet. For more information, please visit our website at www.pmbllc.com or our blog at https://pmbllc.com/hrei-2020-finalists/. To view the awards presentation video, please visit HREInsights.com.