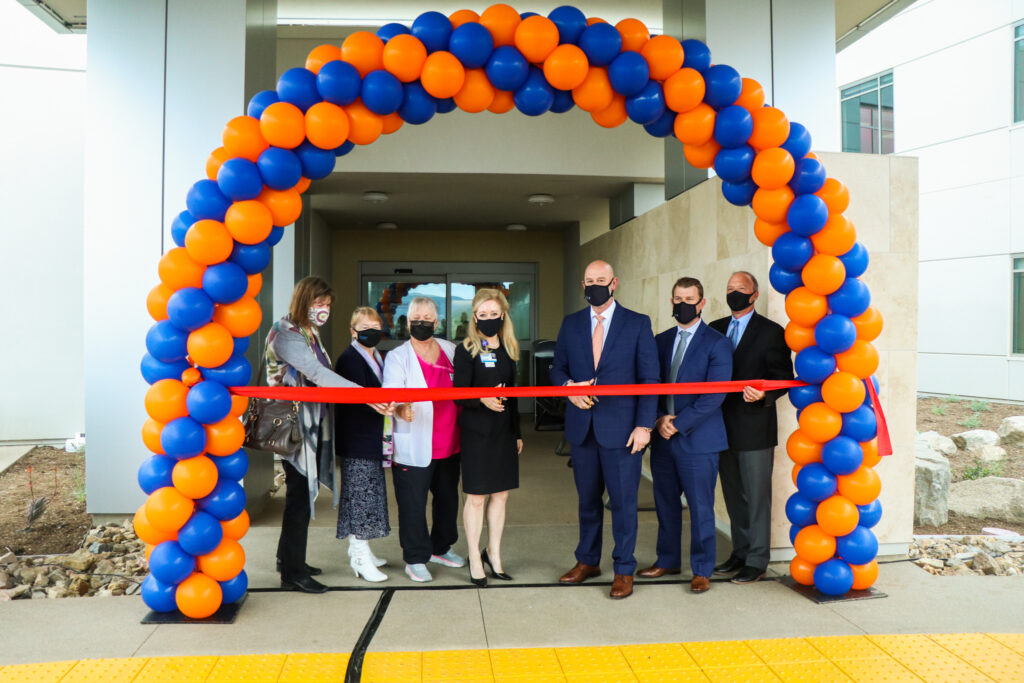 Meeting Community Needs: Palomar, Kindred and PMB Open New Inpatient Rehabilitation Facility
Palomar Health, Kindred Healthcare and PMB announced that they recently completed and opened the 57,543-square-foot, 52-bed Palomar Health Rehabilitation Institute on Palomar's campus in west Escondido.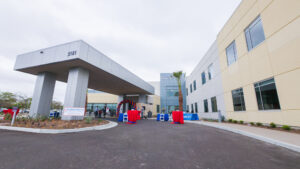 Kindred, which is headquartered in Louisville, Ky., and Escondido-based Palomar Health partnered with PMB to develop the $44 million free-standing rehabilitation hospital. It replaces Palomar's Acute Rehabilitation Unit, which had been housed in Palomar Health's downtown Escondido campus. Construction of the new Palomar Health Rehabilitation Institute began in August 2019 and was completed in only 18 months.
Mark Toothacre, Partner & President of San Diego-based PMB, one of the nation's leading medical building developers, says his firm was pleased to provide development expertise and third-party capital for the project. "PMB provided a financing structure that accommodated a fast-track delivery methodology instead of waiting for the project to be fully permitted before starting," Mr. Toothacre says. "In spite of productivity, schedule and other impacts associated with the Coronavirus pandemic, the development team successfully managed the project to finish in a timely fashion and allow Palomar to relocate their existing rehabilitation unit and close on the sale of their downtown Escondido campus."  He added, "We are pleased to have completed this rehabilitation hospital for two outstanding healthcare leaders – Palomar Health and Kindred Healthcare. This beautiful, cutting-edge facility is sure to become an important community asset."
Diane Hanson, CEO of Palomar Health, said the new rehabilitation hospital is needed in the community. "There has been a growing need for new rehabilitation services in North San Diego County, and the new Institute will more than meet that need. We are now able to serve many more patients, and offer enhanced services, specialties and amenities. The Institute was cost-effectively and quickly delivered to the community, which is a testament to the dedication and hard work of our partners."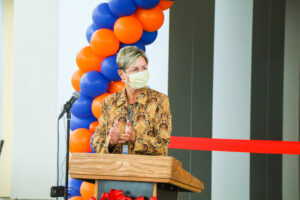 Kindred Healthcare is operating the new hospital, according to Cleve Haralson, Kindred Vice President of Real Estate and Capital Development. "Kindred Healthcare has had a long and excellent relationship with Palomar Health, including managing Palomar Health's previous Acute Rehabilitation Unit," Mr. Haralson says. "Now we are excited to manage the new, modern Institute, which is conveniently located on Palomar Health's new campus. The Institute offers the most advanced care, including the assistance of leading experts and a full complement of unparalleled rehabilitation services."
The new facility, located at 2181 Citracado Parkway, is expected to serve approximately 1,200 patients a year. It provides physiatry, physical and occupational therapy, speech-language pathology, rehabilitation nursing and internal medicine services. It also offers medical and surgical subspecialty consultation and nutritional services for patients suffering from neuro disorders, stroke, brain injury, spinal cord injury and amputation. The Institute includes all private rooms; a secured acquired brain injury unit with private dining and therapy gym; in-room dialysis; large interdisciplinary gyms; a therapeutic courtyard with golf, basketball and varied surfaces; and a transitional living apartment to prepare patients for daily living tasks before they are discharged home.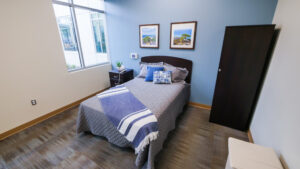 The architect for the project was Taylor Design, which is headquartered in Irvine, Calif., the general contractor was St. Louis-based McCarthy Building Cos., and the capital partner was Chicago-based Harrison Street Real Estate Capital.
About Palomar Health
From a grassroots, community-led effort, Palomar Health has grown to be the largest health care district serving communities in an 850-square-mile area and a trauma center that covers more than 2,200 square miles of South Riverside and North San Diego Counties. In addition to three hospitals, Palomar Health offers home health care, surgery, skilled nursing, ambulatory care, behavioral health services, wound health and community health education programs. For more information, please visit www.palomarhealth.org.
About Kindred Healthcare
Kindred Healthcare, LLC is the nation's leading specialty hospital company delivering acute health services in its long-term acute care hospitals, inpatient rehabilitation hospitals, acute rehabilitation units, and behavioral health line of business, all specializing in treating the most medically complex patients. Based in Louisville, Kentucky, and ranked as one of Fortune magazine's Most Admired Healthcare Companies for nine years, Kindred's mission is to help our patients reach their highest potential for health and healing with intensive medical and rehabilitative care through a compassionate patient experience. For more information, go to www.kindredhealthcare.com. You can also follow us on Facebook, LinkedIn, and Twitter.
About PMB
PMB's mission is to improve healthcare delivery, effect change and positively impact communities. As a healthcare real estate developer focused on the continuum of care, PMB can provide the infrastructure to cure disease, heal families and empower the greatest minds in the industry. Healthcare is in our DNA. Our company is 100 percent focused on healthcare real estate across the continuum of care – from community-centric health and wellness to health-focused seniors housing, outpatient, inpatient and post-acute care. PMB has developed over 100 facilities to date representing approximately 5.5 million square feet. The firm owns and manages 65-plus medical facilities comprising over 4.8 million square feet. For more information, please visit our website at www.pmbllc.com.