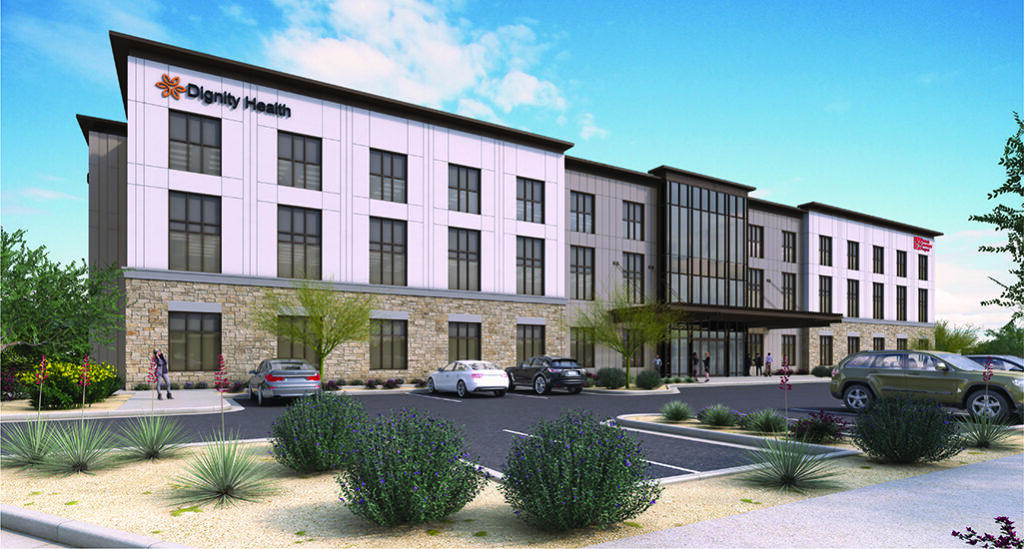 PMB Joins Forces with Dignity Health Once Again to Develop Mercy Gilbert Medical Plaza II in Gilbert, Arizona
PMB, one of the nation's leading real estate owners and developers across the continuum of care, is in the midst of constructing a second medical office building on the Dignity Health Mercy Gilbert Medical Center campus in Gilbert, Arizona. Construction of the three-story, 80,000 SF medical office building is expected to be open to the public early July 2019.
Phoenix Children's Hospital, the only nationally recognized pediatric hospital in Arizona, will be the anchor tenant in the building and has committed to approximately 56,000 SF of clinical and admin space in the building. Programs will include a HemOnc/Infusion clinic, GI clinic, Endocrinology clinic, Orthopedic clinic, ENT clinic and General Surgery. Dignity Health, having recently merged with CHI and now operating as CommonSpirit Health, the largest non-profit health system in the country is expected to occupy approximately 9,000 SF of clinical space.  In total, the building is currently 100% committed with signed leases or LOI's.
In November 2018 Dignity Health and Phoenix Children's Hospital broke ground on a new five-story 373,947 SF Children's Hospital, named the Women and Children's Pavilion, adjacent to the existing 198 bed Mercy Gilbert Medical Center. The joint venture represents a partnership that dates back to 2011. The new Children's Hospital tower is anticipated to be completed in 2020. The Pavilion will include 24 labor and delivery rooms, 48 post-partum beds and an obstetrics-focused emergency department operated by Dignity Health. 48 pediatric beds, a 12-bed pediatric emergency department, pediatric operating rooms and a new 60-bed Level 3 neonatal intensive care unit (NICU) will be operated by Phoenix Children's Hospital. The new tower will bring the finest women's and children's healthcare specialists to the East Valley.
The new medical office building, set to be named Mercy Gilbert Medical Plaza II, will support the entire campus, including the new tower. Features of the building include tilt panel construction with 3-story curtain wall panels, a large enhanced entry canopy, stone and exterior insulation and finish system (EIFS) embellishments, carports to include future photovoltaics (pv) panels and an elegant cantilevered steel parapet cap along the entire perimeter of building.
"We at PMB are very excited to continue our partnership with Dignity Mercy Gilbert Medical Center and Phoenix Children's Hospital to provide high-quality outpatient pediatric and women's services to the fast-growing Gilbert market", said Mark Toothacre, President PMB. "We are especially proud of our ability to meet the expedited schedule required by Dignity and PCH for start of construction start and delivery of the completed project."
This project marks PMB's second development on the Mercy Gilbert Medical Center campus with Dignity Health. Additional team members that have contributed to the success of this development include our equity partner, Ventas, project architect, Devenney Group, and our general contractor, Okland Construction.
Deprecated
: Function get_magic_quotes_gpc() is deprecated in
/var/www/wp-content/themes/ratio/framework/lib/edgt.functions.php
on line
278

Deprecated: Function get_magic_quotes_gpc() is deprecated in /var/www/wp-content/themes/ratio/framework/lib/edgt.functions.php on line 278